10 Tips for Writing a Press Release
Writing a press release can help further your company's public relations objectives. It can help get your brand out there and help you obtain visibility within the media.
In my experience when writing press releases for companies, the one thing I've noticed is that companies tend to stick to old ways of doing things. What I mean is that the form of the press release has become outdated – and unnecessarily so! Additionally, press officers find themselves stuck in a rut. They write the same kinds of releases day-after-day, using the exact same phrases and often the same style and tone. Of course, it's crucial to uphold your brand's style and tone across all press releases. But variation is the key in today's content-driven world!
As such, I've compiled 10 top tips for writing a press release – there are many others of course but for those beginning a role in public relations, this list can help guide you:
1.Know and Implement the Standard Formatting
Each and every company uses a different type of formatting when writing a press release. This is a standard adhered to by the company. For instance, your company may require a boilerplate (standardized text about the company) at the bottom of each and every release whereas other companies may not require this (as it might very well be a standard already implemented in the footer of the website and they might not want to repeat it within the text again). But this, of course, depends on where you're publishing your releases and if you're in fact publishing these on your website within a 'press' section. You can Google image search the term 'press release templates[1]' – for examples of what press releases should look like. You can also download my basic press release template to help you here: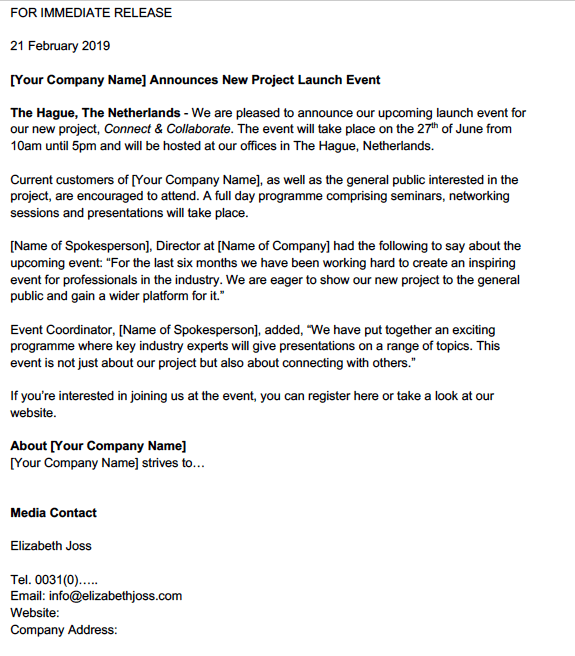 2. Have a Single Aim
Some press releases comprise more than one topic. This is problematic and confusing for the reader. Stick to one main news update or subject. This should form the premise of the entire piece. For instance, if you're launching an event in September, write exclusively about the launch event and provide all logistical details i.e. registrations, time, location, date, programme etc. etc. You could create additional press releases focusing on the same topic but with a different angle i.e. one could be exclusively about the speakers presenting at the event. Another press release could be about the line-up or programme. You could even write press releases after the event has taken place as a way to announce the date of your next event. You can be creative and generate various releases for a single event or topic instead of squeezing all information into a single release.